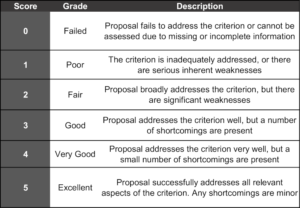 The evaluation system focuses on the excellence of the proposed projects and the candidates' capacities to implement their ideas and achieve their research objectives beyond the state of the art. Candidates will receive scores for predefined sub criteria in the international peer review and the personal interview. The international peer review will account for 60% of the overall score and the interviews will contribute the remaining 40%.
Candidates can achieve a maximum score of 50 (30 from the peer review plus 20 from the interview) and must have an overall minimum score of 35 points (70%). Different thresholds apply at each step and for corresponding subcriteria. These need to be met by every successful applicant. The scores will be assigned using the system shown here:
International Peer Review


Evaluation Criteria (International Peer Review)
(*sub-criterion)
Each reviewer will award scores for each sub-criterion. The average score of the experts will then represent the final score.
An overview of all evaluation criteria is given in the illustration. Only candidates obtaining a minimum score of 3 (threshold) in each sub-criterion and an overall minimum peer review score of 10.5 in both the "project" and "researcher" criteria, will proceed and included in the ranking for the respective scheme (INCOMING or OUTGOING).
Personal interview
In the personal interview scores will be awarded for sub-criteria related to the project and the researcher (see illustration for details). A minimum score of 3.0 (threshold) in each sub-criterion and an overall minimum interview score of at least 14.0 points needs to be achieved to meet the threshold for the personal interview
Evaluation Criteria (Personal Interview) (*sub-criterion)
---